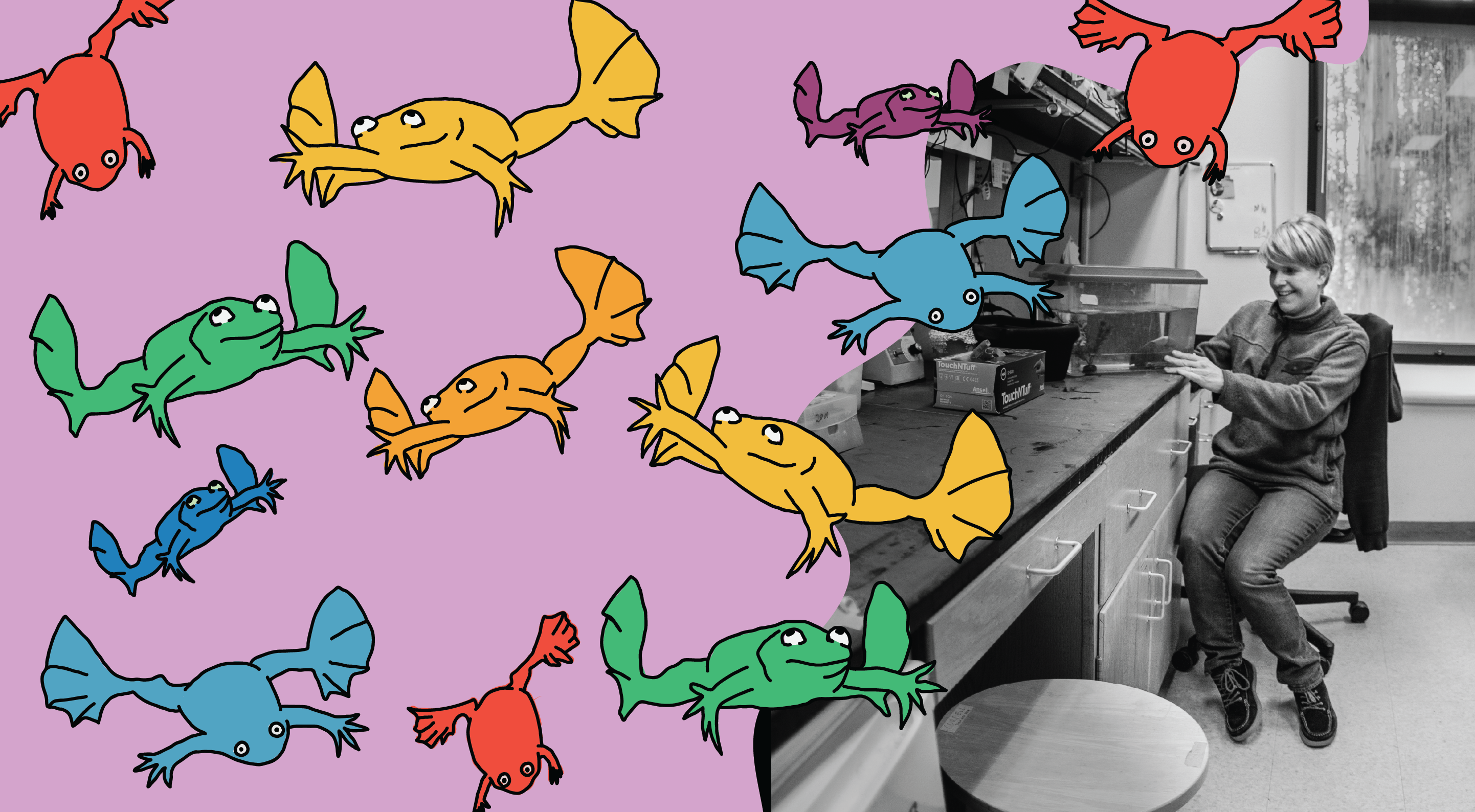 Frog door stoppers, microscopes named after Muppets, and even a crocheted frog on a dissection tray are just a few of the many frog-themed trinkets that can be found in Dr. Rebecca Heald's lab in the Department of Molecular and Cell Biology (MCB). Heald champions the Xenopus system, a clawed frog that is often used to study cell growth, cell division, and size control—processes central to the development of all organisms.
Discovering the perfect model system for these questions happened by chance at a journal club during Heald's PhD at Harvard Medical School. She immediately knew she wanted to study frogs further, which she did as a postdoc at the European Molecular Biology Laboratory (EMBL). "The huge strength of the Xenopus system is that it is an in vitro system where we crush eggs or embryos and extract undiluted cytoplasm," says Heald. "That enables us to reconstitute all kinds of interesting cell biology. Mostly we focus on important events in the cell cycle."
Figuring out the future of her lab was not the only thing Heald took away from her time at EMBL. "The EMBL was an international place—really collaborative and interactive, and a great example for how labs can work together and support each other." This was the spirit of science Heald wanted in her career. When she arrived at Berkeley, she set up her group with two other new assistant professors, Dr. Karsten Weis and Dr. Matt Welch. This helped Heald economize, make the growing pains of starting a new lab less stressful, and even strengthen trainee interactions throughout MCB. "As co-chair, that is what I want our whole department to look like—to be more supportive of one another," Heald emphasizes, "and to broaden that further, recognize all our members as being included, important, and valued."
In her nearly twenty-year tenure, Heald has realized how important an environment of belonging is to student success at Berkeley. "The status quo is bad—in subtle and not so subtle ways. I've really learned about the prevalence of racism in our department and on our campus, which was something that I didn't fully understand until I had multiple trainees from underrepresented groups." Heald listens to students and trainees in order to advocate for changes internally. Heald has also worked with groups like Inclusive MCB to educate students about diversity, equity, inclusion, and challenges of belonging.
As co-chair of the MCB department, Heald's next big direction is to focus on undergraduate coursework support and research opportunities. There are so many MCB students that each lab would have to host twenty undergraduates in order to provide each with an independent research experience. But research opportunities aren't the only thing on undergraduates' minds. "MCB is known to be a super competitive major," explains Heald. "The classes are huge, and some courses just cause people to have mental breakdowns. It's so awful to think that we create that kind of anxiety among our students." To alleviate these pressures, Heald is working to hire more lecturers for the department, particularly those who would make teaching materials more inclusive and pedagogically sound. "We, as faculty, should strive to revamp the introductory courses to really improve the undergraduate experience."
Heald is committed to mentoring her students to achieve their personal and professional goals. Several of her trainees now lead labs of their own. Others have successful careers in industry, public policy, and science communication. Representation in science matters: Heald is transparent about the challenges she faced as a young female scientist, and how her female mentors urged her to push on and helped her thrive. "Many of my early positive mentors were women," she explains, "and I think there is a lot to be said for seeing other women and internalizing the idea that 'yes, I can do this too.'"
The past year has been an eventful one for Heald, who was inducted into the National Academy of Sciences in April of 2022, and was also elected to the American Academy of Arts and Sciences and to the American Association for the Advancement of Science. For Heald, "in terms of external recognition, this was pretty huge!" Heald noted that many female scientists tend to be self-effacing when it comes to recognition and underscores the need for a cultural shift there. "These kinds of awards give me credibility and give me a kind of fearlessness and license that I didn't have before. That means I can try to transform our department as best as I can."
For now, Heald's primary commitment is bringing an environment of change to the Department of Molecular and Cell Biology, both in terms of trainee and faculty culture, as well as at an undergraduate level. "Finding solutions isn't easy," she explains, "but I wouldn't want to be anywhere else."
This article is part of the Spring 2023 issue.