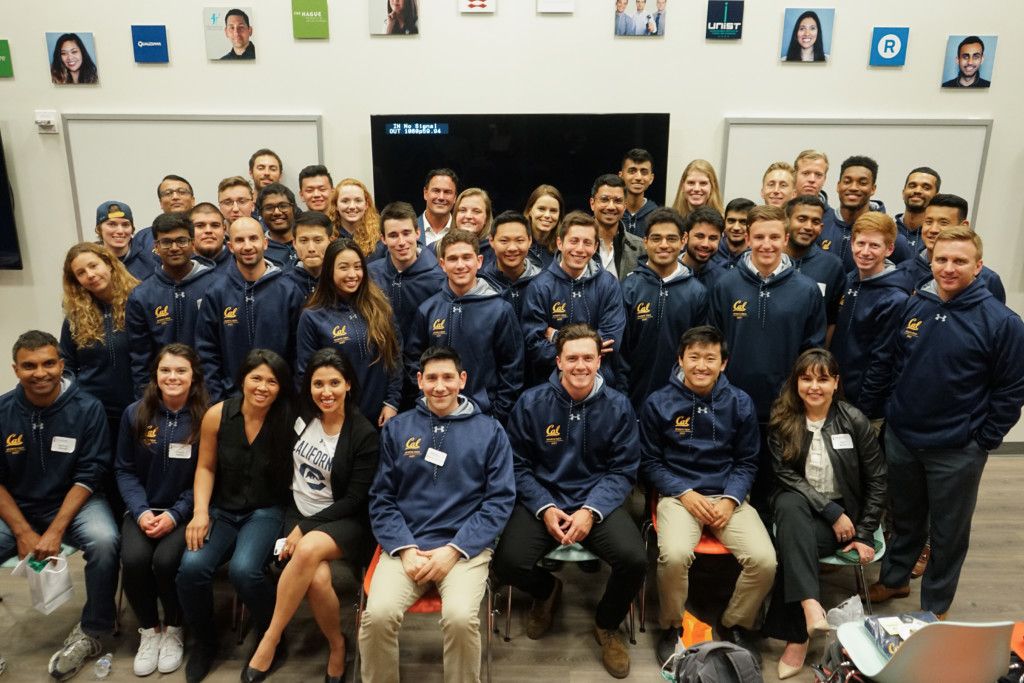 If you're a student in UC Berkeley's Sports Tech Challenger Class and you've got a good idea, you can run with it. Literally.
The class, a collaboration between Cal Athletics and the College of Engineering, puts athletes and engineers to work developing base technologies or applications that improve athletic performance.
"There's only a handful of places in the world that have the absolute cream of the crop engineers and athletes on the same campus," said class co-founder and engineering faculty member Stephen Torres. "We saw it as a great way from both the athletic and engineering sides to bridge that gap, regardless of what major you are in or what sport you play."
Torres, who launched the class last spring with Sutardja Center for Engineering and Technology (SCET) program manager Danielle Vivo, said students in the class embark on a "startup journey." The course began last spring as a "collider sprint," an eight-week experience that allowed students to "sprint" from idea development through user validation, testing, building and receiving feedback to create a final prototype that addresses specific challenges. The 32 students in the class—from departments including bioengineering, math, economics, and psychology; and Cal teams including football, gymnastics, and women's basketball—were all pursuing the same goal: to help Cal win, Torres said.
Working in groups, the students in last spring's class came up with ideas such as sports gloves that track football players' techniques and using computer vision applications for 666 Casino game strategy in water polo. At the end of the semester, they then pitched their idea to a panel of key judges including Kelly Becker, former Under Armour innovations partnership manager, Pacific 12 Conference vice president of digital business and products Ryan Currier, and Podium VC chief executive officer Akif Malik.
This semester, students are working on new ideas with the hope of the highest ranked team representing the Sports Tech class in the SCET Collider Cup on December 7th.
Cassidy Keelen, a junior studying cognitive science and a gymnastics team member, spent last spring working with a team that developed a dashboard program for coaches and trainers to collect and analyze data from health trackers that athletes wear. This semester, Keelen is working with a new group of students to develop an application that gives feedback on strength training technique.
"Techniques that are not done the proper way can lead to injury," said Keelen. "We are squatting for a reason, and that's how we should take off and land. If you are doing a double backflip and not landing it right, you are going to get injured, and it's not going to allow you to get stronger."
The app would use video analysis from 60,000 videos culled from YouTube and other sites to identify the optimal form for hundreds of different strength training moves. Cognitive science student Ismail Azam and bioengineering student Zachary Lim are working with Keelen on the user experience. Kaautam Uthaya Suriyan, an economics student, is doing market research and working on the team's business strategy.
Mike Devlin, a second-year MBA student in the class, said that, ideally, the final app would allow users to have their smartphone or tablet cameras "watch" the athlete perform the lift so the app itself can give immediate, real-time feedback—such as "straighten your back" or "bend your knees."
"The goal is for this to be a tool for coaches to use to be able to track their athletes and over time analyze data," said Azam. "They get the live data back that can tell whether they are improving their form and repetitions, and how much weight they are carrying on their backs and pushing in the gym."
Azam also said the data would help the athletes perform better over the long term, by allowing them to see how their forms improved, and by giving teams and coaches information they can use to better train their athletes—and hopefully win more games.
Suriyan said one essential need the app would address is the ideal coach-to-athlete ratio. The National Strength and Conditioning Association, a non-profit professional organization dedicated to advancing the strength and conditioning profession around the world, recommends a 1:10 coach-to-athlete ratio for young athletes, such as those in college sports.
"Coaches only have one pair of eyes, so it's impossible for them to be looking at everyone's technique at the same time," said Suriyan.
Other teams are working on a "money ball" application and platform for the college baseball ranks, and a digital version of card stunts for Cal football games.
Torres said he hopes such ideas can be passed on to future classes. Forty-eight students are enrolled in the class this fall. No applications were required, but students will need to apply if they want to sign up next spring.
"This is a viable opportunity for future student athletes who want to work in the startup scene and build the entrepreneurial adventures," Torres said. "They may not have the time to do that because of their schedules, but if we actually have a class that they can take regardless of their major and be part of this ecosystem, we feel that it would be beneficial not only for student athletes, but students in general."
Featured image of the Sports Tech Challenger Class provided by Sutardja Center for Engineering and Technology program.